Sustain the Future Ltd Architects + Designers

has the experience to help you realise your building project or design challenge.
Contact Richard Thompson on 07951 030077
or you can Email me : sustainthefuture@me.com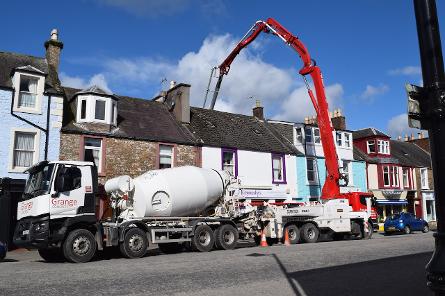 Nothing can stop us building!! Concrete pumped over the roof for our retail client.
About Us
We are two experienced, highly qualified, and discreet professionals spanning architecture and interior design. We have excellent references and a broad range of project training. We are based is in Kirkcudbright, a beautiful part of SW Scotland and Kibworth Beauchamp an historic South Leicestershire village.
Sustain the Future is a Royal Incorporation of Architects in Scotland Chartered Practice.
We have years of experience to help you get the job done. We can advise on and deliver building projects and tackle challenging design issues on your behalf.
We are happy to give a free consultation that allows you to see how your project can make progress. We follow up, within a few days, with a fully documented fee proposal for your consideration.
Our standard agreement in Scotland is based on the terms and conditions of the Scottish Conditions of Appointment of an Architect, Small Project Version ASP2018. For England we use the R.I.B.A. Conditions of Appointment for an Architect for a Domestic Project 2010 (2012 edition) and for non-domestic clients the Concise Agreement 2010 (2012 revision).
Our Commitment
You can trust that your business and personal matters will be handled with professionalism, integrity, and the utmost discretion. Architect Richard Thompson is registered with the Architects Registration Board and has joint membership of the Royal Incorporation of Architects in Scotland and the Royal Institute of British Architects.


Sustain the Future Ltd, Company Number 06372184, Registered Office: The Apex, 2 Sheriffs Orchard, Coventry, CV1 3PP U.K.