Listed here with images are some of our 2006 - 2009 projects
First off, our trip to China in October 2006. This was part of a study tour arranged by Oxford University in conjunction with the Chinese Government. We were brilliantly hosted by the Chinese and got to see lots of regeneration, business and academic activity and sites in Beijing, Shanghai and Shenzen. We also had lengthy discussions with our Chinese counterparts about their plans for the future and how they do business. The lead image below is our view of the proposed site for the Shanghai based Expo 2010. That exhibition is now done but the regeneration legacy is immense.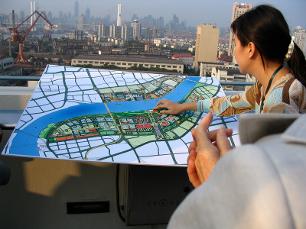 In 2007 we decided to fit out a SWB Ford transit van ready for a tour of Europe. Doug & James had very little money and could just afford the van and some plywood. The architect, thought this would be a great self build project. The client enjoyed every moment of the 3 day project. Every ergonomic fact was brought into play. This was truly more of a ships cabin design than traditional architecture. What a great student project this would be. Well, off went 'AUDRY' on her tour. Nothing went wrong, well not much. The design was tested to, almost, destruction through adventure after adventure. Eventually the clients returned to the U.K. much poorer, fitter and wiser. For a budget fit out this was a great project and we would love to do it again. Finally, when the van was sold on to a delivery start up in Sheffield everything was taken out, plywood, screws, the lot, - in 2 hours. Fully recycled, just fine.
Hard to say why but we seem to involve ourselves at the feasibility stage of major renewable energy projects. In a previous life, Richard led a team investigating the installation of a huge anaerobic digestion plant. This involved liaising with the manufacturers, Kompogas, and visiting sites throughout Germany and Switzerland to see working installations. The process was based on using green waste to create methane that was burnt to generate electricity or compressed for use as a vehicle fuel.
One of our first live commissions was a feasibility study for Treenergy Ltd creating a 6MW wood fuelled power station in Monmouth. That continued into 2008. We are currently studying the Galloway Hydro scheme to identify any potential spin off ideas for a more ecologically sound and sustainable future.
2008 soon came around and here we are in Kirkcudbright renovating our first Scottish house. Western Red Cedar clad timber frame is not unusual for Scotland. Out came everything, wall linings, ceilings, a staircase, some floors, all of the plumbing and electrics, the bathroom and the kitchen. Nothing was left inside the building except stud work floor joists and some floors. Our design required the house to be treated as if it were 3 storeys and fire doors were fitted to the staircase/landing/hall route to the front door together with beefed up wall finishes along that route. The end result has some spectacular oak fire doors, wonderful modern spaces and lighting, 3 bathrooms (up from 1) and plenty of storage for all the out door kit. With our multi fuel stove and super level of insulation it is a great family home with great south westerlyviews across Kirkcudbright and the Dee estuary.